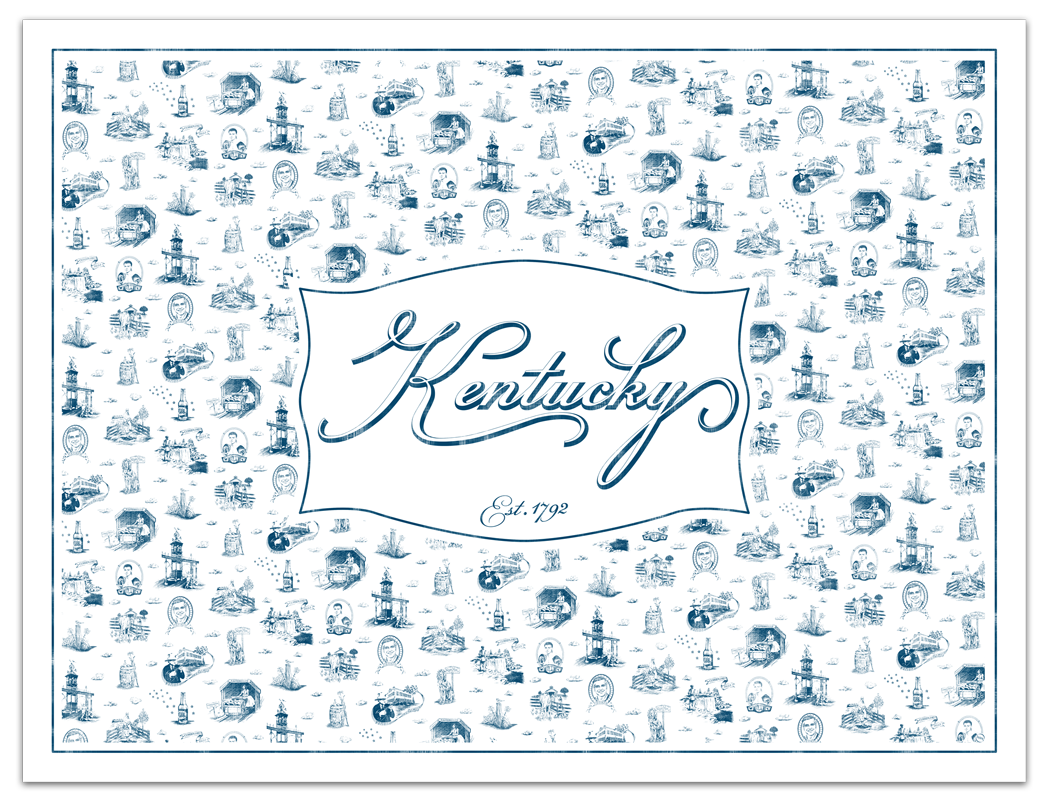 Kentucky Toile
was a collaborative project with
Kentucky for Kentucky
. I was asked to create classical Kentucky-centric illustrations to combine into a tiled pattern for print and fabric. The fine art print was produced in two colors, blue and red, featuring the "Kentucky, Est. 1792" monogram. The fabric items are in production.
Below are close-up views of the toile elements.
Right from top:
• the Louisville (Derby) Clock with native son Hunter S. Thompson and a Louisville Slugger bat.
• George Clooney
• Bill Monroe and Federal Hill ('My Old Kentucky Home') with the first few bars of "Blue Moon of Kentucky"
• Ale-8 (with 15 stars as Kentucky was the 15th state to join the union)
• Cumberland Falls with Daniel Boone
• a cardinal (state bird), surrounded by goldenrod (state flower), a basketball and stalking 'wildcat'.
 
Left from top:
• bourbon barrel with corn (the majority grain base for Kentucky bourbon)
• Colonel Sanders astride his 'steed', a proud hen, with the state tree (tulip poplar)
• a would-be mayor of Rabbit Hash (they've elected animal mayors since 1998)
• Loretta Lynn (Coal-Miner's Daughter) on a Consolidation Coal Company (her father's employer) coal car
• Muhammad Ali (with a butterfly and bee)
• pastoral thoroughbred scene with jockey
Each illustration began as a freehand base sketch in Photoshop with the Wacom tablet. The sketch was then fleshed out with an inking brush and taken into Illustrator for tracing into scaleable paths.
Scents of the Commonwealth
These candles were created by
Kathy Werking for Kentucky for Kentucky
. I was asked to illustrate the labels in a similar fashion to the toile. The derby scent, Mint Julep (formerly Kentucky Derby) finds Louisville native Hunter S. Thompson enjoying a julep while kidding around with a friendly thoroughbred. Fried chicken, well, that just calls out for a healthy plate of victuals and a Mason jar of iced tea. The Ale8 label shows a bottle of the titular beverage with the flavor makers ginger and citrus. Ale8 was only produced once, giving way to Bluegrass, Cannabis, Thoroughbred, and Trailer Park. The latest are Hot Brown and KFC's Double Down.
This 'equestrian' Colonel variant was made for use on t-shirts and the Colonel with a paintbrush was created for a toile website that never quite made it off the ground.