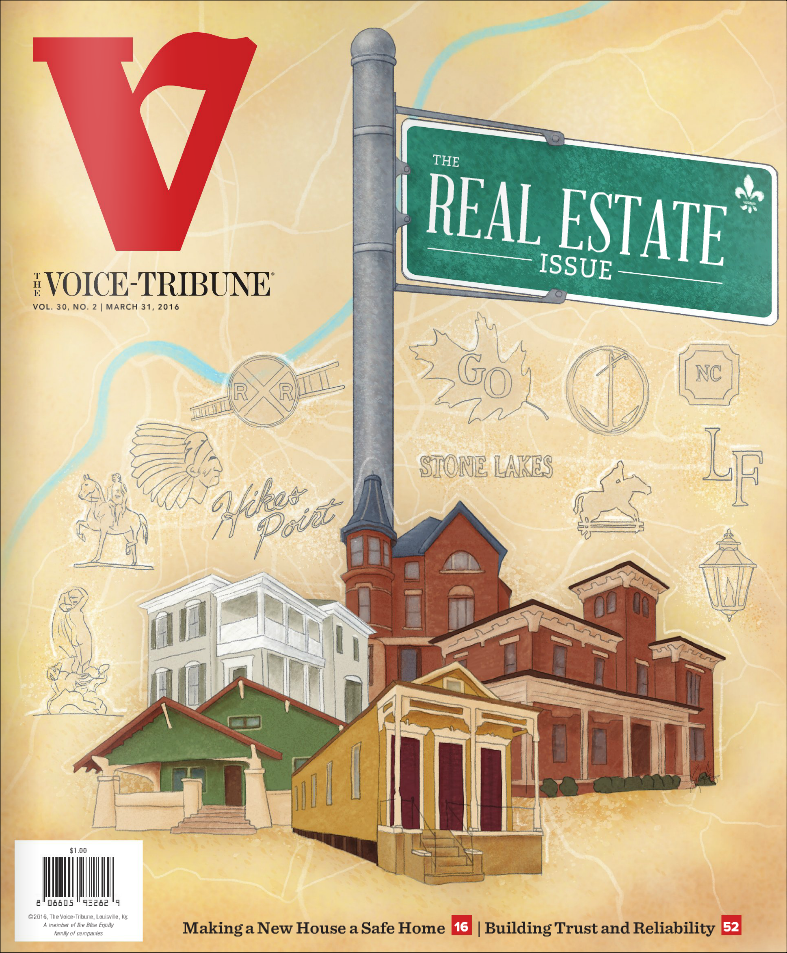 Cover, March 31st 2016: the Voice requested various home styles, some neighborhood representation (I chose 'icons'), a map and street sign, all in a sketch/watercolor style.
I was commissioned to create this illustration for the
January 22nd cover of the Voice-Tribune
in Louisville, Kentucky. It features a bold, angular portrait of the mayor, Greg Fischer, a colorful skyline, the 'Big Four' walking bridge, and beam of light to signify the location of the upcoming Omni tower in downtown.
The colors were chosen specifically to compliment the red of the paper's 'V' logo.
For this cover, the staff at the Voice came to me with an idea, the city with a bourbon bottle pouring out the river. I had to work around the placement of their masthead and text at the top and bottom. The style was chosen as well, something loose with a watercolor look. I also provided the hand lettered title text, "City Scene".
For the
March 5th issue of the Voice-Tribune
, I was asked to create illustrations themed around six different types of parties. I also created the introductory spread with a fun little custom-lettered word 'party'. Each illustration was drawn freehand in Photoshop then finalized and colored in Illustrator.